Logan Hoffman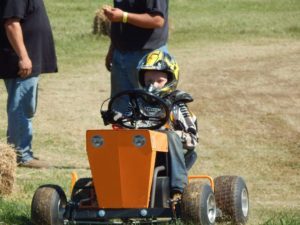 #11
Hometown:  Franksville, WI
Age:  11
Logan is a 4th grade student at Raymond Elementary School.
My dad Justin, Mom Julie, my uncles Josh and Mike and my Bompa Jeff Hoffman all are into lawnmower racing.  2016 Wisconsin Lawnmower Racing started the Class of grasshoppers.  Logan's Bompa Jeff Hoffman saw his grandchildren cheering at all the races and wanted to let Logan, and other kids join in on the race.
2017 will be Logan's 2nd year racing.  Logan's brother is getting in on the action in 2017, so watch out on the track for these two brothers.  They compete in Bompa Jeff's back yard any chance they can get.