Official Rulebook – DOWNLOAD
The Wisconsin Lawn Mower Racing Association adheres to the rules set forth by the United States Lawn Mower Racing Association. The downloadable PDF is a copy of the official USLMRA Racing Handbook (Rulebook) and General Competition Regulations. Be sure to download your copy of the Official Rules.
For information on the Grasshopper Class Rules click below.  Grasshopper Class is not a USLMRA class, but our club has chosen to run it.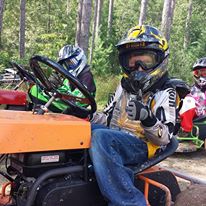 Grasshopper Class Rules Click here.
GPT Class is now a USLMRA official class!  GPTfollows all the GP rules, see USLMRA Racing Handbook (Rulebook) above, using a prepared Governed V-Twin, limiting your RPM's up to 3650, using 20 hp and under.  Age for this class is 16 years and older.  GPT class is not a USLMRA official class yet, but our club has chosen to run it also.  If you like GP but are looking for a little more POWER, think about this class.
UNITED STATES LAWN MOWER RACING ASSOCIATION RULEBOOK
Have questions? Contact us today!